GoLINC™ Platform
Wabtec's industry-tested network, communication and application management platform for the railroad environment
Processing data. Hosting applications. Interfacing with third-party systems. Now you have a communication and application management platform – GoLINC™ – designed for the harsh railroad environment. 
GoLINC™ is an industry-tested network, communication and application management platform for the railroad environment. It is a mobile data center that provides robust processing, wireless communication, networking, video and data storage. GoLINC™ interfaces with both locomotive and third-party systems and features onboard wireless capability for easier data transfer.
GoLINC™ ACC (Auxiliary Card Cage) is a modular chassis system designed for heavy-haul freight locomotives and meets the AAR S-9101 standard. It is a best-in-class mobile data center for processing, networking, communications, storage and machine-interface operations. The GoLINC family of ACC modules and chassis (available in 2/4/8-slot chassis configurations) offers a wide variety of solutions for your rail communications and networking needs – scalable to meet your needs today and modular to keep pace with your communications needs down the road. 
GoLINC™ AP (Application Platform) and GoLINC™ EP (Edge platform) are smaller, less modular form factors of the GoLINC™ platform that provide network, communication and processing platform for other assets like HyRails, track-maintenance vehicles and small wayside equipment. 
Product Details
GoLINC™  Key Application Modules
System master module (SMM): Provides Ethernet network switching, routing, and system management
Array module: rugged, network addressable, data storage with RAID configuration support
Applications processing module (HPEAP): industrial, virtualization-enabled with 64-bit processing capability to run supplier or customer applications on the platform
Wireless communications module (WCM): Provides cellular and Wi-Fi communication with smart routing and security
Power supply modules: wide input voltage range. Single and duel options for redundancy and load sharing
Benefits
GoLINC™ Platform Benefits
Modular, flexible, upgradeable
Modular, flexible, upgradeable platform; meets AAR S-9101
Ruggedized
Ruggedized for harsh railroad environment
Mobile data center
Mobile data center with processing, networking, communication and storage capabilities
Application needs
Runs customer, Wabtec, and 3rd-party applications
Industry-tested
Industry-tested product. Over 11,000 units deployed worldwide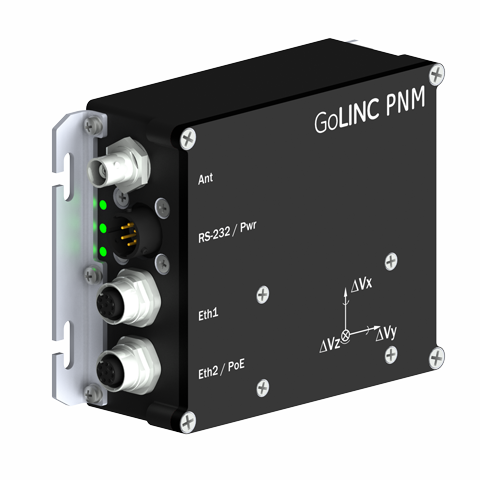 GoLINC™ Precision Reference (pREF) is an all-in-one precision navigation system designed for onboard and wayside precision navigation.
Contact Us
Wabtec Digital Electronics