Revolutionizing the way the world moves for future generations
Sustainability Strategy
Unlock our customers' potential by delivering innovative and lasting transportation solutions.
SUSTAINABILITY VISION
Wabtec is committed to sustainable value creation. Our strategy is to contribute to a better, more sustainable world through our unique business offerings, leading technologies, and sustainable business practices while creating value for our customers, employees, and other stakeholders.
"Sustainability is a collective journey, and we believe that collaborating with the entire ecosystem, including internal teams, customers, end-users, suppliers, industry associations, communities, governments, and investors will empower us to succeed"

Lilian Leroux
Chief Strategy and Sustainability Officer
SUSTAINABILITY PRINCIPLES
When it comes to corporate sustainability, Wabtec has a three-pronged approach that includes:
Innovating with purpose.
We are committed to developing responsible and sustainable products that minimize our impact on the planet.
Driving responsible operations.
We are committed to providing work environments and products that enable productive and efficient use of resources.
Empowering people and communities.
We are committed to driving an inclusive culture grounded in integrity, committed to the development of and investment in the communities where our teams live and work.
Material Topics
Prioritization and Management of ESG Issues
Image
Wabtec completed our first environmental, social, and governance (ESG) materiality assessment in 2020 to prioritize topics encompassing the most significant impacts on our customers, communities, and the world.
These material topics are at the core of our sustainability strategy, as they have the highest relative priority to Wabtec and external stakeholders, and directly align with our action plans and key performance indicators highlighted throughout the 2023 Sustainability Report.
Prime Status Rating by ISS ESG
Awarded to companies with an ESG performance above the sector-specific Prime threshold, which means that they fulfill ambitious absolute performance requirements.
Image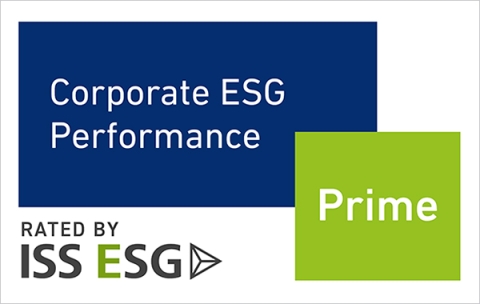 Greenhouse Gas Emissions
Image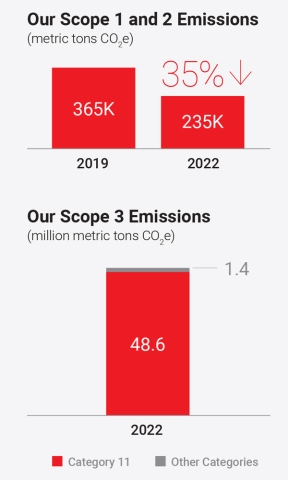 Scope 1 and 2
We have aligned our operational framework with the Paris Agreement and its science-based goal of limiting the Earth's temperature increase to less than 1.5 degrees Celsius. Demonstrating our commitment to continuous improvement along our sustainability journey, we replaced our original greenhouse gas (GHG) and energy intensity goals with an absolute emissions goal to reduce our Scope 1 and 2 emissions by 50% by 2030 from a 2019 baseline. We have made tremendous progress toward that target, accomplishing 35% reduction in 2022.
Scope 3
Wabtec's most relevant category of Scope 3 GHG emissions is Category 11: Use of Sold Products, at more than 97% of Wabtec's estimated total Scope 3 emissions. Within this category, the largest source of GHG emissions is from our customers' use of our freight locomotives. A modal shift to rail will enable a significant reduction in GHG emissions world wide despite Wabtec's increase in Scope 3 absolute emissions from manufacturing additional locomotives. As global freight volumes increase and more goods are transported by rail, the demand for locomotives is expected to increase. However, the overall emissions reduction benefits from shifting to rail — a more energy efficient and safer mode of transportation — would greatly exceed the change in Wabtec's own Scope 3 absolute emissions. Moreover, adoption by our customers of Wabtec's next-generation technologies — such as our biofuel and battery locomotives, our digital solutions, and our future hydrogen-powered locomotives — will drive further reductions in our customers' Scope 1 and 2 emissions and Wabtec's Scope 3 emissions intensity.
Image
United Nations Global Compact
In 2022, Wabtec joined the United Nations Global Compact, demonstrating our existing and ongoing commitment to the universal sustainability principles promoted by the organization.
Image

LEADING THE WAY IN RAIL
Lending our Expertise
Acting on our Sustainability strategy requires engagement with stakeholders and thought leaders outside of our organizational envelope. As a leading player in both the passenger and freight rail sectors and a storied company with more than 150 years of experience driving innovation, we believe that Wabtec, has an obligation to engage in dialogue and drive collaboration. Below is a brief snapshot of how we, as an enterprise, are stepping into leadership and concurrently staying close to industry thought leaders that will help us to advance.
Engaging in Conversation
Image
Brazil
Developing the Railway Technology Excellence Center
Wabtec is working alongside academic institutions and industry partners, to support the Ministry of Infrastructure (MINFRA) as they work to define the necessary infrastructure (equipment, laboratories, tools, etc.) for the Railway Technology Excellence Center , an innovation center designed to drive research and development for the Brazilian rail sector.
China
Reshaping Fleet Service & Maintenance Operations
Wabtec has served China's Qinghai-Tibet Railway (QTR), the highest railway in the world, for 15 years. QTR has 78 NJ2 locomotives that are covered a by multi-year Master Service Agreement (MSA). Under this MSA, Wabtec is responsible for the overall operation of the fleet, and provides holistic maintenance and services, which eliminates the customer's need to invest in maintenance and shop facilities. This is a unique and innovative service model in the Chinese rail industry, where traditionally, operators manage service and maintenance processes on their own.
This arrangement has been a game changer. Not only does it provide reliable fleet operation, but it also adds value through improved maintenance quality processes, shop operation expertise, vendor managed parts and materials, troubleshooting capabilities, and more. China Railways recognizes the cost-effectiveness and efficiencies this service model provides and hopes to adopt it across more of its expansive rail network.
Wabtec's team in China is working closely with operators and authorities to explore these opportunities in an effort to achieve optimal railway operations, and ultimately to reshape how the Chinese rail industry manages its operations and services.
Europe
Founding Member of ERJU
In 2021, Wabtec officially joined Europe's Rail Joint Undertaking (ERJU) as a founding member. A follow-up to the Shift2Rail initiative, ERJU is a partnership between Europe's major railway stakeholders that aims to create a more modern and sustainable European railway system.
"This is an important milestone for the entire European railway ecosystem and all Wabtec teams are proud to be part of this program. Wabtec has a strong presence in Europe, with nearly 9000 employees. We file patents and develop high-tech products every day here. As such we believe that we can help the attractiveness of rail in Europe and contribute to the European target of CO2 emission reduction." - Paolo Pagliero, Group Vice President, Engineering for Wabtec Transit
India
Accelerating the Pace of Electrification
The National Rail Plan (NRP)  of the Indian Railways establishes an aggressive goal to become a net-zero carbon footprint operator by 2030. Electrification of the rail network and reliance on generation of solar energy are among the major strategies that will be used to achieve this goal. A supplier of diesel-electric locomotives that are made in India, Wabtec is also concurrently working with the Indian Railways accelerate the pace of electrification. Our plants in Baddhi and Hosur directly supply components for electric locomotives, namely the E70 brake system. In support of the NRP, high reach pantographs designed for the dedicated Freight Corridors, the next generation computer-controlled brake panel system and a potential battery electric locomotive strategy will all support the IR's strategic plan.
United States
Decarbonizing Freight Rail Transportation
To accelerate the transition to cleaner technology in the rail sector, Wabtec seeks strategic partnership along its value chain that allow the company to leverage its internal capacity and strengths most effectively.