Driving Responsible Operations
Our commitment to be more efficient and responsible is reflected in the extensive work we do to make our businesses more environmentally friendly, safer, and more sustainable.
Reducing Our Environmental Footprint
At Wabtec, we think of sustainability in a holistic way. While our ultimate goal is to lead the way on creating a zero-emissions rail future, we are deeply invested in creating positive impact across our operations, from reducing waste generation to increasing water use efficiency to developing a sustainable and resilient infrastructure that supports economic development and human well-being.
CLIMATE CHANGE IS AN URGENT GLOBAL PRIORITY
Our Commitment to Climate
In 2021, we made excellent progress toward our operational GHG and energy targets, achieving a 20% reduction in GHG intensity and a 14% reduction in energy intensity since 2019. But, we are not content to rest on that accomplishment. In this Report, we are introducing an absolute GHG goal that is aligned with climate science and the Paris Agreement's ambition to limit the effect of global warming to an average temperature increase of 1.5°C.3  Our new goal is a 50% absolute reduction in Scope 1 and 2 emissions by 2030, from a baseline year of 2019. In our next Sustainability Report, we plan to begin reporting on our progress towards that goal, which measures absolute GHG using a market-based value for Scope 2. The new target will replace our existing GHG and energy intensity goals and demonstrates Wabtec's commitment to continuous improvement along our ESG journey. 
Image
2021 Highlights
Image
Responsible Operations
Our Approach to Energy & GHG Reduction
In order to drive action toward our climate metrics, we focus on reducing energy consumption in our operations first. Our approach is tailored toward the type and size of operation. For smaller facilities, best practice guidelines are provided around energy conservation. Sites can use these checklists to identify and implement actions with a priority to eliminate energy usage (such as turning off equipment). And when energy use cannot be eliminated, the actions are focused on using energy efficiently.
Eliminating Energy Waste
At larger Wabtec manufacturing sites, we conduct third-party energy audits, as well as treasure hunts—lean workouts (kaizens), focused on eliminating energy waste. These kaizens are undertaken with the lean manufacturing principle of "use only what you need when you need it." Teams of site employees from different functions get together to identify wasted energy, coming up with unique ways to only use the energy we need for our manufacturing operations. Solutions range from adding automatic shut-off controls to process equipment to providing a properly sized, efficient energy infrastructure such as an air compressor with the power matched to the actual load requirement.
Water Reduction
Image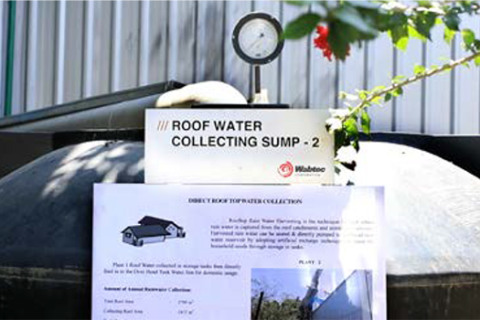 Our target for water usage in Wabtec operations is a 30% reduction in consumption by 2030 from a 2019 baseline. The sites included in this goal are those in water scarce regions, quantified by the World Resources Institute's Aqueduct tool as "High" or "Extremely High" regarding the physical risk of water stress. In 2021, we had a slight (0.8%) reduction in water consumption at these facilities. While we implemented some water reuse projects, such as at our facility in Hosur, India, further progress toward our water target will require additional effort around water optimization. This will be a focus area in the next few years.
Ensuring we responsibly source raw materials, parts, & components
Supplier Standards
At Wabtec, we are guided by our Supplier Code of Conduct, which ensures that we take a sustainable approach to procurement, including the sourcing of our raw materials, parts, and components. We work with over 40,000 direct and indirect suppliers and contractors across the globe, all held to the same rigorous set of environmental, health, safety, labor, human rights, security, and privacy standards. We also are committed to reducing major sources of indirect greenhouse gas emissions during the procurement and processing of raw materials we use across our entire business.
Supplier Diversity
Working with more than 40,000 direct and indirect suppliers around the globe has given us an incredible opportunity to live by our values and commitment to diversity. This includes the chance to partner with businesses owned by minorities, women, veterans, members of the LGBTQ+ community, and disabled persons, as well as small-business enterprises. In 2023, we are implementing a new supplier management application to achieve greater visibility globally for all our business groups and to enable an increase in representation of these diverse suppliers.
Image