Empowering People & Communities
Commitment to Diversity, Equity & Inclusion (DE&I)
Our global employees are the bedrock of our success. We are committed to creating a diverse and inclusive workforce built on the foundation that all employees treat each other with respect and dignity, and that everyone feels safe bringing their authentic selves to work every day.
2021 Highlights
International Women's Day #ChooseToChallenge Celebration featured a variety of keynote speakers and global programs. The events focused on powerful conversations about accelerating gender parity, and to commemorate the cultural, and socioeconomic achievements of women.
PRIDE month hosted by the PRIDE ERG featured guest speaker Una Nowling, who spoke about Crossing the Gender Divide in STEM: Insight and experience from a Transgender Engineer. This discussion shared findings and personal stories from her journey across the gender divide in STEM.
Black History month, hosted by the African Heritage Forum ERG, facilitated transparent discussions regarding race relations, COVID, and the power of the vote to empower communities.
Workforce Diversity Training
Creating A True Culture of Inclusion
Creating a true culture of inclusion is one of our biggest priorities. Training and education are at the heart of these efforts, which is why we invest so heavily in diversity training for all employees, including specialized training for our people leaders.
Building on the strength of our partnership with MindGym, a leading psychology-based training and development company, we've continued to refine our company-wide DE&I training by focusing on behaviors that lead to inclusivity. This training was coupled with tools and resources for leaders at Wabtec to help make diversity and inclusion a lasting conversation. And we've seen widespread adoption of this program across our company with more than 5,000 salaried Wabtec employees participating in this training globally, a 17% increase since our 2021 Sustainability Report.
More than
5,000
salaried Wabtec employees participated in DE&I training globally, a 17% increase since our 2021 Sustainability Report
Fostering a Supportive Work Environment
A Culture of Belonging
At Wabtec, we strive every day to be a fair, equitable, diverse and inclusive company. We are building a culture where YOU can be YOU – a place where our differences are not only acknowledged but celebrated. We are not all the same. We are people with disabilities, diverse backgrounds and different identities. This is one of our greatest strengths. Wabtec is an inclusive workplace where our collective experiences foster greater creativity and innovation. Working together as One Wabtec we will revolutionize the way the world moves for future generations.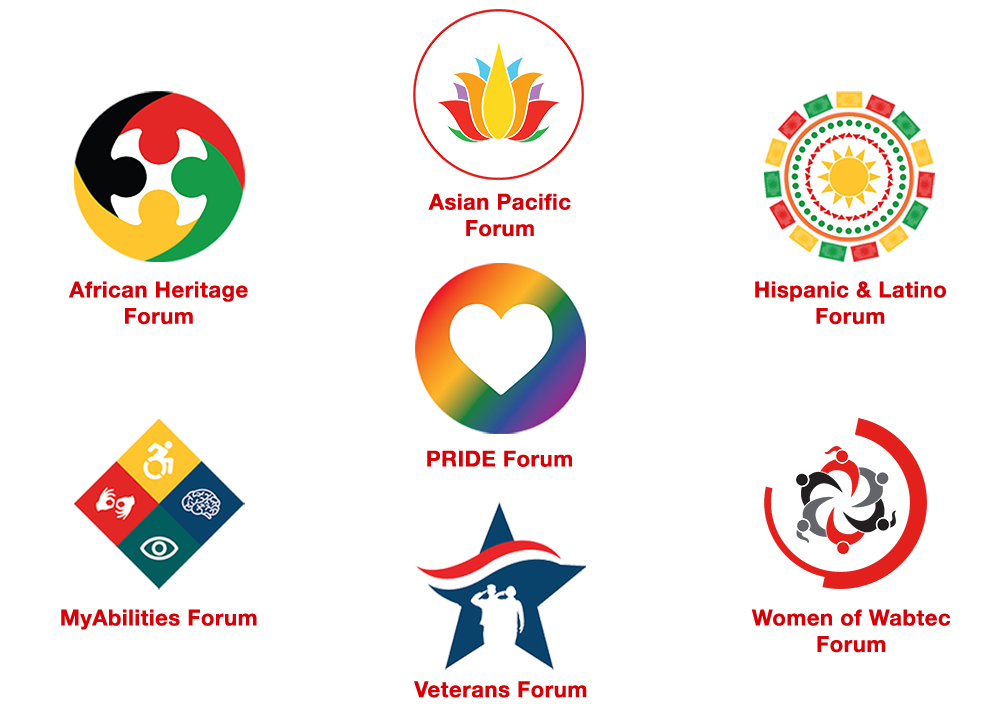 Employee Resource Groups
Wabtec's Employee Resource Groups – open to all employees – play a big role in amplifying these efforts. These groups include:
African Heritage Forum
Asian Pacific Forum
Hispanic & Latino Forum
PRIDE Forum
MyAbilities Forum
Women of Wabtec Forum
Veterans Forum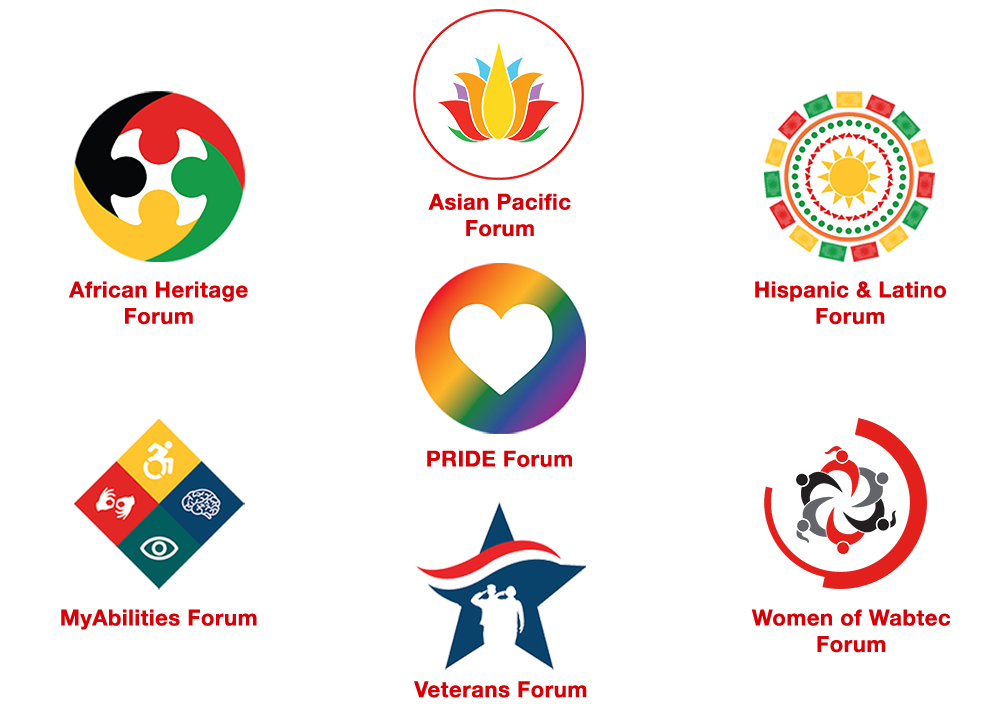 The Wabtec Foundation
Caring for Our Communities
For over 150 years, Wabtec has been driven by a commitment to have meaningful, sustainable impact in the communities where we live and work. Key to this focus is a holistic approach to how we invest in our communities that spans direct grants from the Wabtec Foundation, employee matched gifts, educational scholarships, United Way programs, and employee volunteerism.
Here are a few examples of how Wabtec stepped up to support our communities over the past year.
China
Overcoming COVID-19 Challenges
During a difficult 2-month lockdown due to COVID-19, Our people pitched in to ensure we kept our fleet moving and got supplies transported to impacted areas. They also stepped up in the community, offering door-to-door services in residential compounds, helping maintain order in the daily lives of quarantined residents. And talk about sacrifice, 28 employees in Wabtec's Shanghai Transit site (FMT) volunteered to sleep in the plant to keep it operational for our customers.
In response to grocery supply chain pressures, the company delivered food packages directly to employees. This is a team that rose to the challenge. Several team members were presented community, long-service, and participation awards at a well-deserved welcome back celebration.
Europe
Supporting Ukrainian Refugee Relief Efforts
The conflict in Ukraine represents one of the most significant humanitarian crises since World War II. The UN estimates that more than 1.5 million civilians have fled the fighting in Ukraine.
The Wabtec Foundation committed $100,000 to support Ukrainian refugee relief efforts. Split evenly between the International Rescue Committee (IRC) and World Central Kitchen, the funds will go on to support the growing number of civilians leaving Ukraine.
Our Wabtec team in Poland supported our Ukrainian employees that are currently based in the Czech Republic, assisting with evacuation of their families from the Poland/Ukraine border. In addition, the Services Poland team has taken on the responsibility of providing service support for the 30 EVO locomotives operating in Ukraine. Locomotives have been a lifeline to the millions of people fleeing the country and they are critical in transporting essential humanitarian supplies to the Ukrainian people.
India
Accelerating Careers in India
Wabtec is expanding its collaboration with the Foundation for Excellence (FFE) to provide 240 economically challenged and academically bright students with Engineering Education Scholarships.
The program "Accelerating Careers" builds upon the success of a previous partnership involving students in need studying at more than 100 colleges across India. "Success in business starts with people and cultivating the next generation of thinkers, doers, and innovators," said Sujatha Narayan, Senior Vice President and Region Leader, Wabtec India. "This partnership provides bright, economically challenged students the financial support to reach their full potential and position themselves for successful careers."
United States
Aiding with Hurricane Relief in FL
Hurricanes Ian and Nicole struck the state of Florida only 43 days apart. Wabtec has approximately 700 employees across multiple sites in Florida. Most of Wabtec's employees are in Jacksonville and Melbourne. The Wabtec Foundation donated $25,000 to the Red Cross to support relief efforts.
"We are an active community member in Florida and are committed to supporting those in need where our employees live and work," said Nicole Theophilus, Chief Human Resource Officer for Wabtec. "The back-to-back nature of these recent hurricanes left our community members in Florida hurting and without the basic services we depend on every day. Thousands of Florida residents continue to deal with the lingering effects of these storms. The Red Cross is the ideal partner to support as they help the impacted communities get back on their feet."