Empowering People & Communities
Commitment to Our People 
Wabtec's employees are a core strength of our global operations. One of our core values is People First, and we continuously support our valuable workforce by engaging with them in a responsible and fair manner. We honor the combined skills, knowledge, and diverse backgrounds and experiences they bring to our organization. Throughout our organization, our employees stand behind our sustainability goals and provide meaningful contributions to ensure our progress toward them.
2022 Highlights
Image
Significant year-over-year progress on all diversity, equity, and inclusion targets, including an 11% increase in female representation globally.
Wabtec Transit sites in Hosur, Baddi, and Bahadurgarh, India, as well as Wabtec India Technology and Engineering Center received Great Place to Work® Certification.
Since Bids for Kids launched in 1995, the community event has raised approximately $2.3 million for local charities in Western Pennsylvania.
Promoting Diversity, Equity, and Inclusion
Wabtec's position as a global leader in the rail industry means that it is vital for our workforce to reflect the vibrant diversity of the cultures and identities shared by the customers and stakeholders we serve around the globe. Our continued success is made possible by creating an inclusive and equitable workplace that serves the needs of our diverse employees. We deeply respect our employees' unique backgrounds, experiences, and differences. Workplace diversity not only contributes to our success as a proven source of innovation, but also remains central to our core value of putting People First.
| Focus Area | 2019 Baseline | 2022 Performance | 2030 Goal |
| --- | --- | --- | --- |
| Females Across Global Workforce | 15.7% | 17.5% | 20% |
| Females Across Salaried Workforce | 17.8% | 19.8% | 25% |
| People of Color Across Total U.S. Workforce | 25.5% | 25.1% | 30% |
| People of Color Across U.S. Salaried Workforce | 19.4% | 21.5% | 25% |
Training and Development
Wabtec offers a variety of learning content for all of our employees through our online educational platform, LinkedIn Learning. Content spans deep technical skills, soft skills, leadership training, and general career development representing over 50,000 skills, 13,000 courses, and more than 12 languages. LinkedIn Learning continues to expand and refresh content to remain contemporary.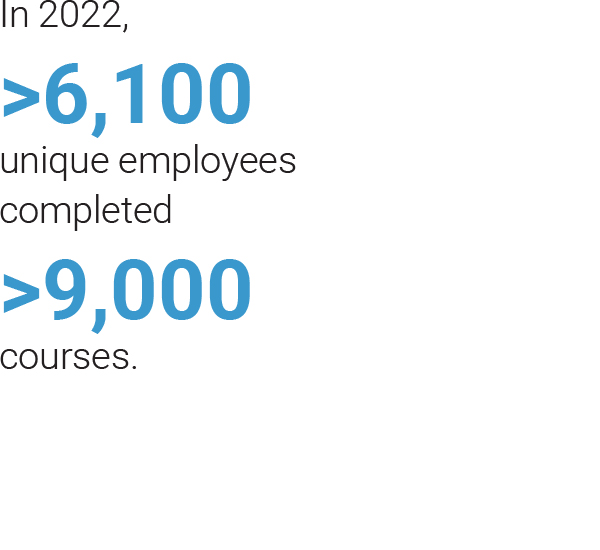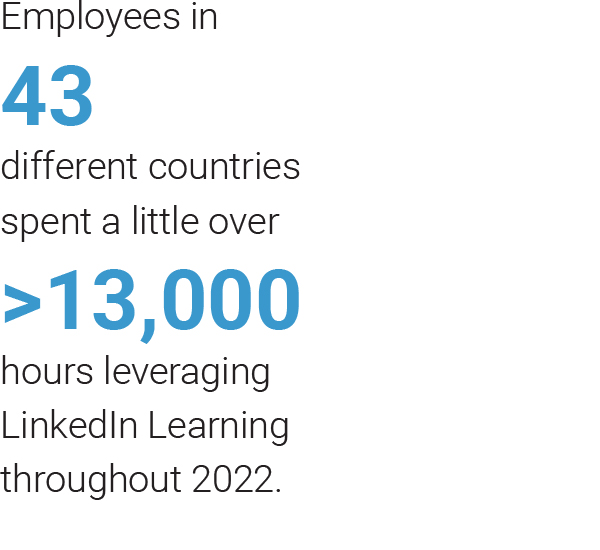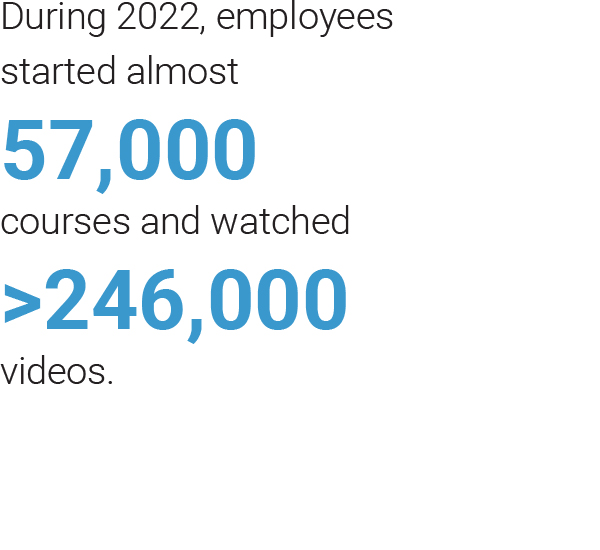 The Wabtec Foundation
Caring for Our Communities
Every day, Wabtec works to make the world a little bit better. It's been our goal – and part of our business – for over 150 years. Led by the Wabtec Foundation, our philanthropic arm, we commit to improving the health, safety, and viability of our communities and addressing critical needs with meaningful, sustainable impact. We donate to communities where we operate in an effort to support local communities, address humanitarian crises, and provide disaster relief.
In 2022, our communities faced devastating natural disasters and the lingering impacts of multiple crises. Our Caring for our Communities program donated a total of $580,000 to over 170 recipients to positively impact our communities around the world.
Here are a few examples of how Wabtec stepped up to support our communities over the past year.
India
Partnering to Refurbish Schools
In 2023, Wabtec completed a refurbishment project of a Zilla Parishad School in Mahalunge, Pune, India, in partnership with the Ennoble Social Innovation Foundation. Wabtec has committed to refurbish two schools in Pune, India, in the community of Wabtec's India Global Sourcing Organization operations. Together, the projects will benefit more than 2,400 students.
Europe
Supporting Ukrainian Refugee Relief Efforts
In support of Ukrainian refugee relief efforts, Wabtec Foundation donated $100,000 in March 2022, split evenly between the International Rescue Committee (IRC) and World Central Kitchen. These organizations are active in the region helping the growing number of civilians leaving Ukraine.
United States
Providing Hurricane Relief & Fighting Poverty
Wabtec Foundation donated $25,000 toward Red Cross relief efforts in Florida to support communities after the devastating impacts of Hurricanes Ian and Nicole. Approximately 700 Wabtec employees are located in Florida. The donation supported the Red Cross in providing meals, overnight stays, supplies, and medical needs to impacted community members in need. 
Our Wabtec Foundation also supported the United Way of Erie County and its mission to reduce poverty with a $124,000 donation. The donation is the result of our 2022 United Way campaign where employee contributions are combined with a 50% match from the company.