Empowering People & Communities
Advancing Diversity, Equity & Inclusion
At Wabtec, our roughly 27,000 employees are the bedrock of our success. Collectively, they are taking on some of the world's toughest transportation challenges through the creation of advanced technologies, next-generation manufacturing, and sustainable innovation.
In addition, we are committed to making the world better. It's been our goal – and part of our business – for over 150 years to do well by doing good in the communities where we operate. To have meaningful, sustainable impact, we take a holistic approach to engaging our communities through charitable and philanthropic efforts and explore ways to amplify our impact by engaging our team members as volunteers.
Fostering a Supportive Work Environment
A Culture of Belonging
At Wabtec, we create leading-edge transportation solutions that move and improve the world. Diversity and inclusion are key pillars in our ability to deliver on this mission and change the face of our industry.
With the help and leadership of our seven global Employee Resource Groups (ERGs) that are led and managed by Wabtec employees, we are fostering a workplace where employees treat each other with respect and dignity, diverse perspectives are sought and encouraged, and everyone feels safe bringing their authentic selves to work. In doing so, we aim to retain and attract diverse talent, grow our team through leadership development opportunities, invest in the communities in which we operate, and advance a culture of belonging.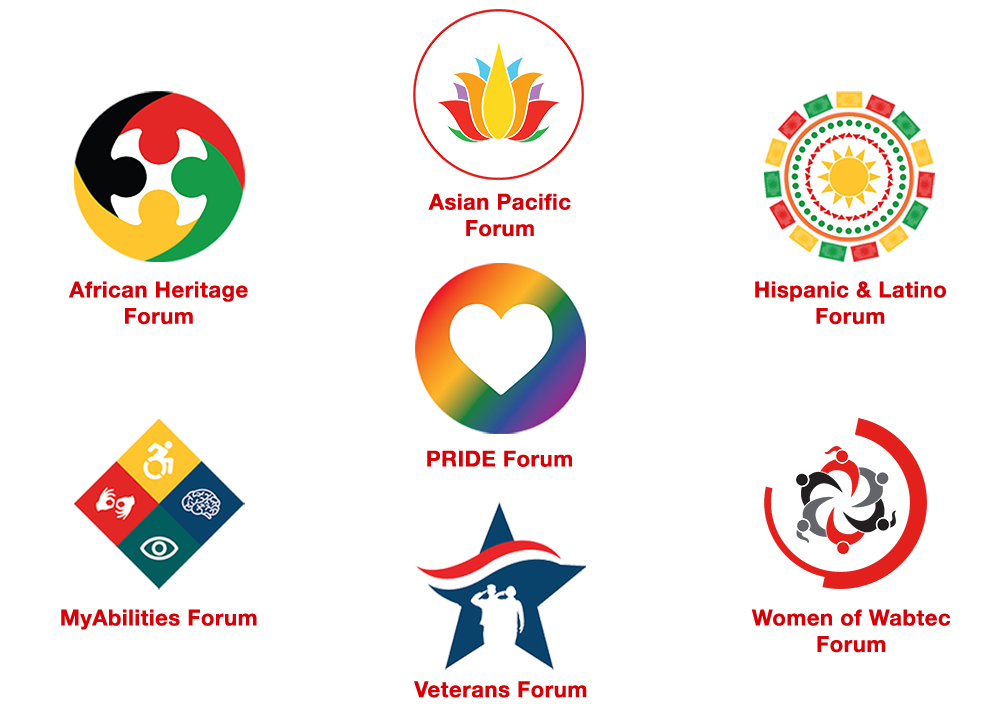 Employee Resource Groups
Wabtec's Employee Resource Groups – open to all employees – play a big role in amplifying these efforts. These groups include:
African Heritage Forum
Asian Pacific Forum
Hispanic & Latino Forum
PRIDE Forum
MyAbilities Forum
Women of Wabtec Forum
Veterans Forum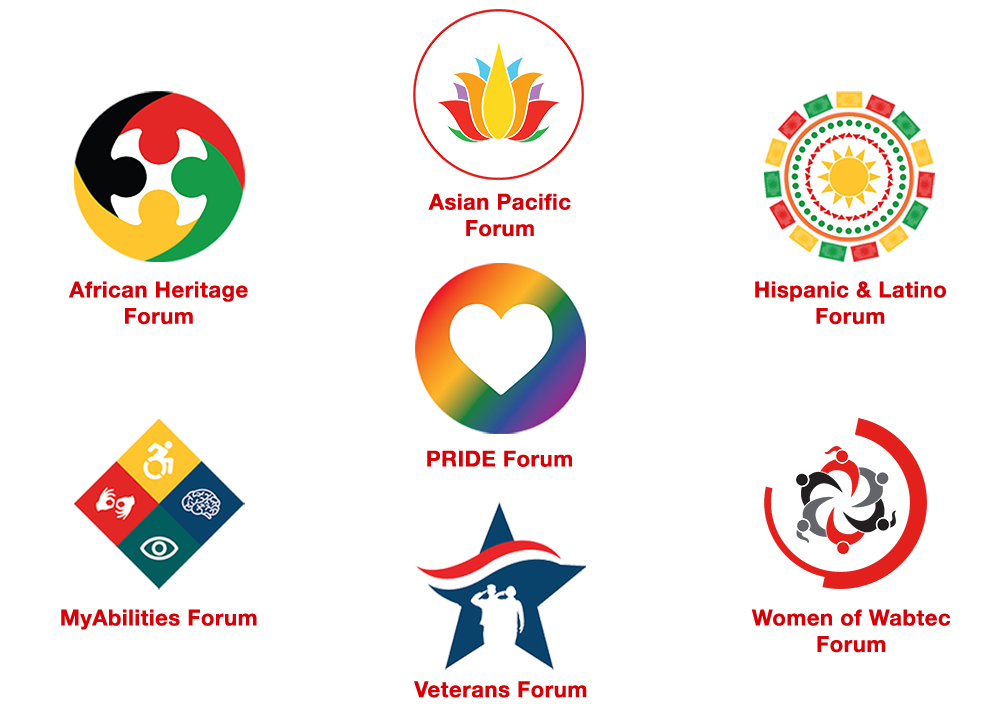 Workforce Diversity Training
Engaging & Developing Employees
Education is a significant driver of inclusion and the reason Wabtec invested heavily in diversity training for all employees over the last year, including specialized training for people leaders. Partnering with MindGym, a leading psychology-based training and developing company, Wabtec's training program worked to build a Company-wide D&I foundation by focusing on the behaviors that lead to inclusivity. The training was coupled with tools and resources for people leaders to help make diversity and inclusion part of a long-term conversation rather than a one-time training.
In 2021 more than
4,000
Wabtec employees participated
in Diversity and Inclusion training
The Wabtec Foundation
Caring for Our Communities
For over 150 years, Wabtec has been driven by a commitment to have meaningful, sustainable impact in the communities where we live and work. Key to this focus is a holistic approach to how we invest in our communities that spans direct grants from the Wabtec Foundation, employee matched gifts, educational scholarships, United Way programs, and employee volunteerism.
In a year filled with natural disasters, a renewed focus on social and racial justice, and a one-of-akind global pandemic, it was even more critical to live up to our values. Here are several stories of how Wabtec stepped up in the face of disaster.
Australia
Raising Money to Support Harry's House Family Retreat
Committed to making a difference in our communities, young professional leaders from the Hunter Valley region, New South Wales banded together to raise money to support Harry's House Family Retreat charity. The retreat is available to families that have a child living with cancer and to families grieving the loss of their child to cancer within the past two years. Harry's House Family Retreat is located in Newcastle close to the ferry terminal, shops, harbor, foreshore park and the beach which can be enjoyed at no expense for a short-term stay.
China
Orchestrating a Green Summer Campaign
Throughout the year, Wabtec's team in Shanghai supported underprivileged families in Gucun Town. More than 200 employees made monetary donations and participated in programs to support those most in need.
The teams also orchestrated a Green Summer campaign across the region aimed at engaging employees and children in creating a cleaner, greener world. More than 80 activities took place to support this effort, including a clean-up project in Baotou, Inner Mongolia, and educational sessions on environmental issues and sustainable development.
Europe
Partnering to Feed Those in Need
In Spain, Wabtec employees partnered with a local food bank, Banc dels Aliments, to provide basic aid to families in need. In addition, they orchestrated a food and monetary donation drive across Barcelona, Madrid, Seville, and Tarragona. Together, the teams donated nearly 325 pounds of food.
In France, the teams also donated critical food supplies to Restos du Coeur, an organization that delivered meals to those most in need especially during the challenging lockdowns spurred by the COVID-19 pandemic.
India
Helping those Impacted by COVID-19
When India faced a spike in COVID-19 cases, Wabtec employees led a major donation effort, backed by matching gifts from the Wabtec Foundation, to support the lives impacted by the devastating pandemic. Charitable grants were directed to St. John's Hospital in Bangalore, India to help ensure vital medical services continued to be provided for families, children, and the elderly affected by COVID-19. Similarly, a grant was also given to Nari Gunjan in Marhowrah to support the fight against COVID-19.
In addition, Wabtec funded and organized four COVID vaccination camps for the Hosur community and administered nearly 6,000 vaccines.
The Company also held multiple vaccination drives across its operating locations to ensure that employees, their families, and third-party service providers had an opportunity to get vaccinated in a safe and secure environment. Wabtec teams also reached out to hospitals and NGOs to support the unique needs of these local institutions. Our Baddi site, for example, donated oxygen cylinders to support the emergency ward in one of the largest hospitals in Bangalore. Our teams also set up an Emergency Relief Centre on Platform No. 2 and 3 at Jolarpet Station in partnership with Indian Railways to provide emergency medical aid and treatment.
Latin America
Volunteering for Workforce Readiness
Wabtec employees have a long history of giving back to the communities where the Company does business in Brazil. In the face of challenges stemming from the pandemic, roughly 80 employees sprang into action to donate more than 400 baskets of food, 600 clothing items, and 500 blankets to those in need.
Many employees across the region also participate in volunteer job readiness programs. For example, Wabtec employees teach mathematics and the English language to other colleagues and/or members of their families. In addition, employee volunteers participate in mentoring programs for at risk youth, where they share advice, discuss life and on-the-job experiences, and help students reach their full potential.
United States
Supporting Local Relief Efforts in TX & IA
With more than 1,200 employees across multiple sites in Texas, including our one-million-sq-ft locomotive plant in Fort Worth, Texas is home for so many at Wabtec. Following a deadly winter storm, the Wabtec Foundation, Wabtec's philanthropic arm, donated to support local relief efforts in Texas. The donations were split among three nonprofits: Salvation Army of North Texas, Tarrant Area Food Bank, and the Tarrant County Homeless Coalition.
Similarly, when wind and thunderstorms devastated the Midwest in August, Iowa was hit hard, and Cedar Rapids saw sustained winds of 100 miles per hour for more than 60 minutes. Wabtec's two facilities in Cedar Rapids, a 60-person fabrication facility and a 130-person digital electronics facility, were both impacted. In response, the Wabtec teams ensured services were not interrupted for customers and the Wabtec Foundation provided a grant to The United Way of East Central Iowa to go toward communities hurt by the storm.