Electric Drive Systems
Reliable performance in the world's most extreme conditions
Wabtec's optimized integrated drive systems. The power is inside.
Wabtec introduced the first commercially viable electric drive system for large mining haul trucks in the early 1960's.  
Since then, the company has led the industry in the introduction of new technology to improve the mining industry's key operational metric, material hauled in cost per ton. These innovations have included the industry's first solid-state control system, the first trolley assist technology for large mining haul trucks, the first AC electric drive system and the first demonstration of hybrid energy storage.
With service-proven transmission and electric components, the company is the recognized industry leader in electric drive systems ranging from 150 - 400-ton capacity.
10,000+ trucks equipped with
Wabtec optimized integrated drive systems
Wabtec's AC Electric Drive System consists of an alternator, control system, dynamic retarding assembly and motorized wheels.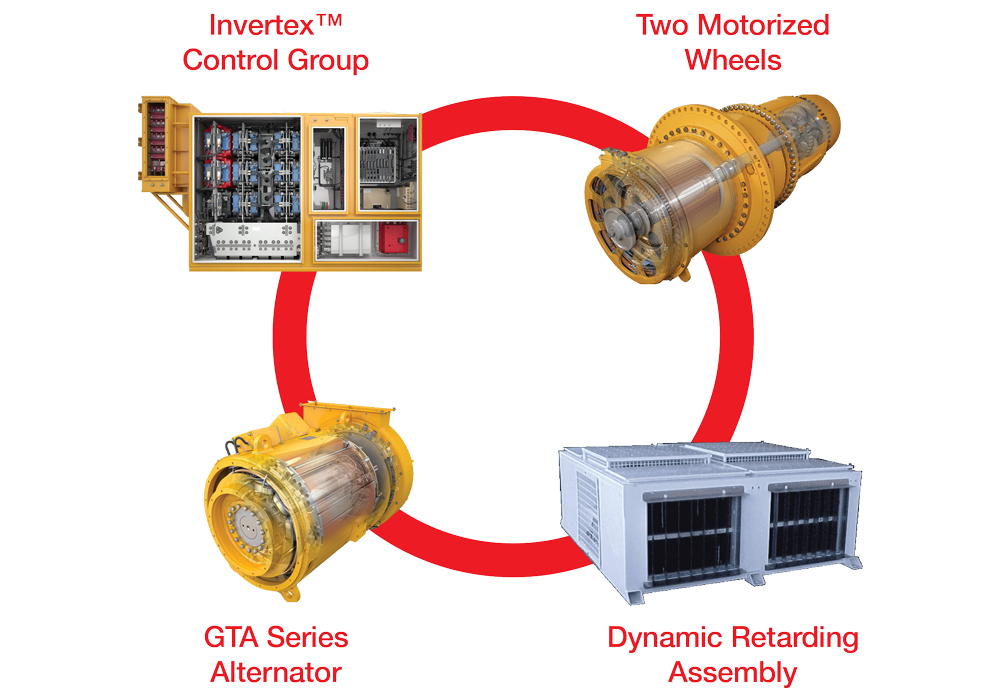 Features & Benefits:
Faster on the level and on grade
Greater retarding range, including a continuous retarding capability to near zero speed
Fewer high-service components and longer component life
Lower operating and life cycle costs with improved horsepower utilization, reduced maintenance and enhanced tire life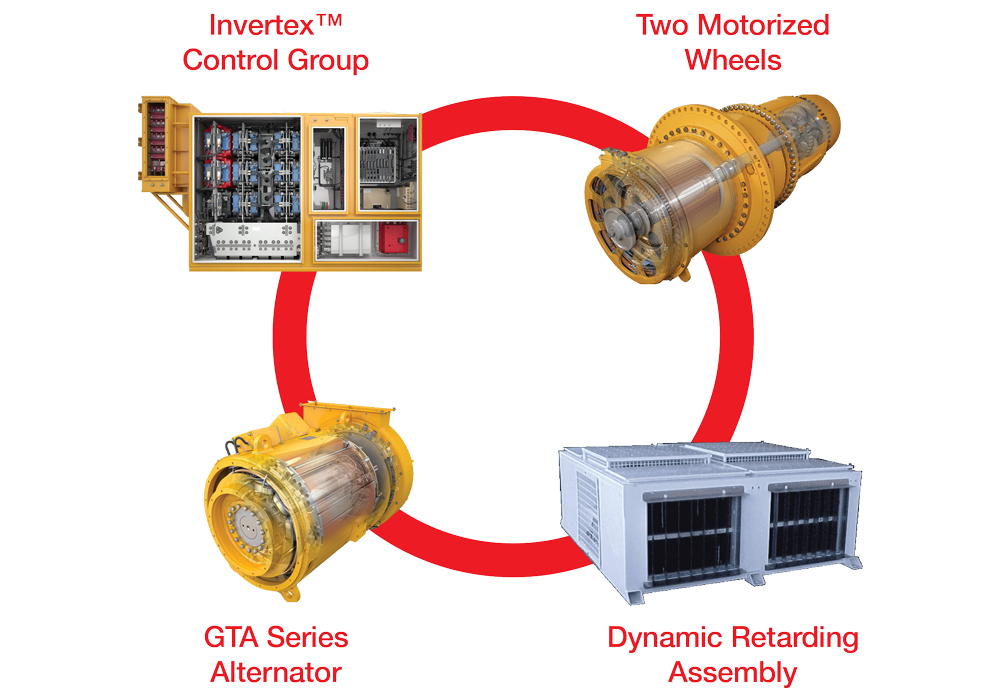 Wabtec's Integrated Optimized Drive Systems
Dedicated to transforming the mining industry by doing what Wabtec does best
— developing leading sustainable technologies to build, power and move the world.
As global demands for energy and raw materials continue to grow, mining companies face ever-increasing challenges to bring these resources to market in an environmentally conscious way. To help mines achieve success, we are committed to being the preferred global supplier of premium electric drive systems.
Sustainability
An Electric Future for Mine Haulage
Mining is not a choice – the way we mine is.  Three key areas of focus for electrification to make mining more sustainable:
The Electric Drive. These drive systems have been in operation for almost 65 years. Mines have traditionally used them because of their advantages over other systems, specifically, 1/3 the gearing, 85% reduction in bearings as well as durability and low touch times. Fewer parts drive fewer life cycle replacements, reducing the manufacturing burden on the environment of producing these new parts. Moving forward, the Electric Drive System will be at the core of zero emissions systems.
Optimizing drive system performance through electrification of auxiliary loads. Traditional cooling of drive systems is done by a large impeller on the alternator or hydraulically driven blowers. With alternator driven cooling, whenever one of the truck systems needed additional cooling, the engine remained at full RPM to spin the alternator and provide the necessary air to the system, consuming more fuel.  The individual sub-systems have the authority to increase engine speed for cooling needs.  With the addition of optimized cooling, each sub-system employs its own variable speed cooling blower—allowing for cooling "on demand".  This optimization leads to increased productivity, fuel savings and a longer product life.
Implementing electrification on a truck. There are various ways to accomplish electrification.  The simplest way would be to add energy storage to supplement the diesel engine. Benefits include lower emissions, lower fuel consumption and reduced operating noise levels. The ultimate step towards electrification would be to eliminate the engine altogether as a source of energy, which would require a larger battery and a means to dynamically or statically charge the system. This option would allow for zero emissions (provided charging source is zero emissions) and lower noise pollution.
We need to make more sustainable choices in mining, and our path toward innovation is clear. With the goals of -- greater productivity, availability, reduced emissions and lower fuel consumption -- the future of mining is electric.
Contact Us
Wabtec Mining Equipment