Wabtec Announces Winners for Its "Exceed Campus Challenge" in India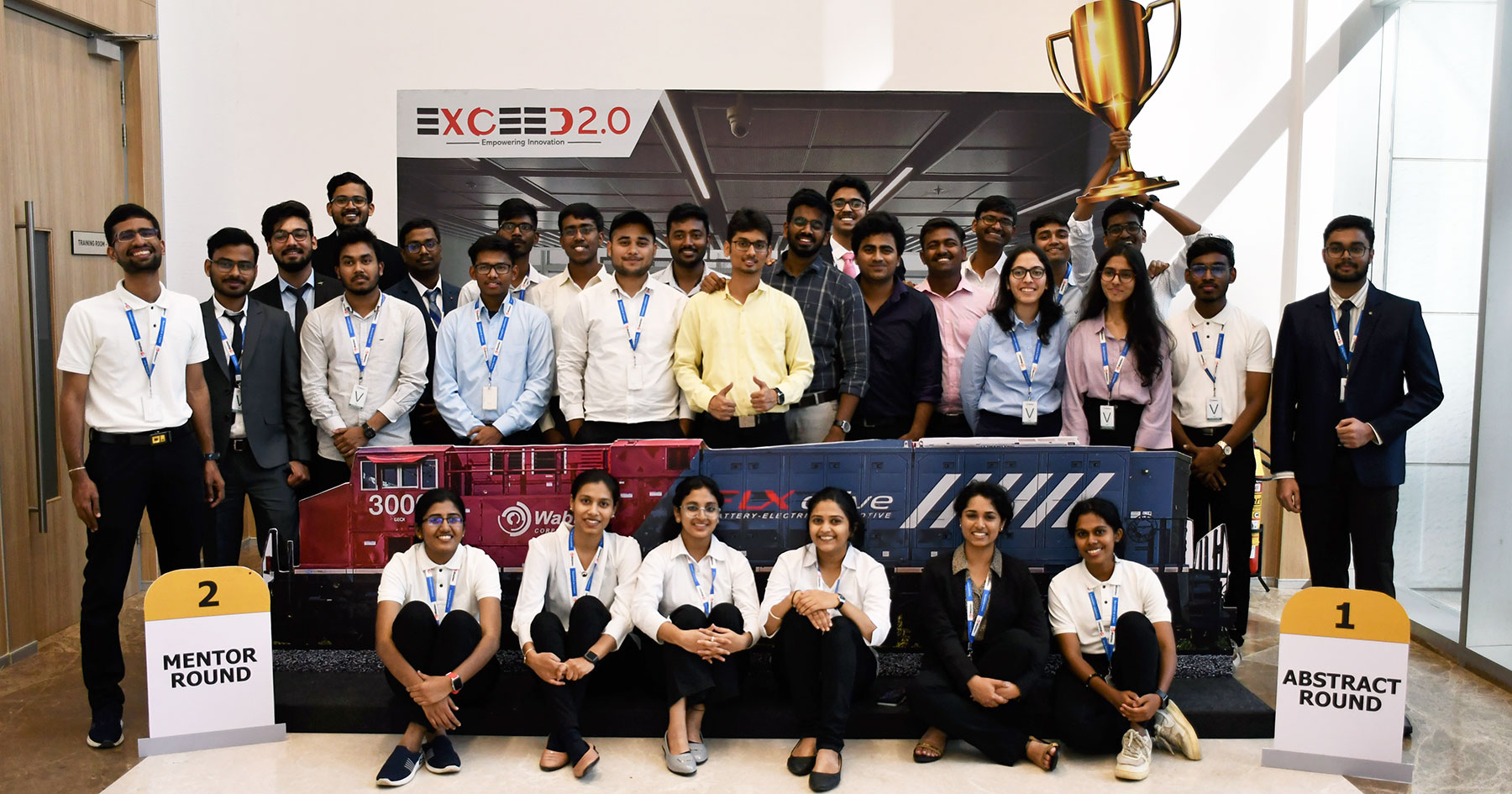 BANGALORE, January 19, 2023 — Wabtec Corporation announced today the winners of the company's 2022-23 "Exceed Campus Challenge" in India. The winning teams developed innovative proposals for a range of technical challenges facing the rail industry.
"The Exceed Campus Challenge is the ideal forum for cultivating tomorrow's thinkers and doers," said Sujatha Narayan, Senior Vice President and Regional Leader for Wabtec Corporation in India. "This year's winners demonstrated the innovative spirit, dedication and passion necessary to be successful in the rail industry."
The competition winner was Team Pastra from PES University in Bangalore. The team's presentation focused on "Artificial Intelligence for Safety in Industrial Sites." Achal Shetty, Alokpunj Bagrodia and Mohit Venkatesh represented their college.
The first runner up was an all-women's team named Team Psiphi from MKSSS Cummins College of Engineering in Pune. Oorja Patil, Shruti Pawar, Swarali Savale and Vaishnavi Sutrave presented a solution for an "Onboard Bogie Condition Monitoring System." The second runner up was Team QuadSquad from PSG Tech in Coimbatore. Team members Hari Prakash R, Harita J, Bhavani K and Kenan Jerolin showcased a proposal on "Vision Enhancement Solution for Loco Pilot during Fog, Rain and Curves."
These winners were among 149 teams and more than 500 students from 36 colleges across India that competed in the challenge. Of the 149 teams, eight qualified for a final round and presented projects to the leadership at Wabtec India Technology and Engineering Centre in Bangalore. The top finalist won a total cash price of Rs.2.25 lakh.
"Our campus outreach program has been growing over the past couple of years," said Anup Kumar Pal, Director of Human Resources for Wabtec Corporation India. "The Exceed Campus Challenge presents a unique opportunity for prospective employees to gain insight into the rail industry. It also provides exposure to our culture, labs, and resources."
Wabtec requested applications for the challenge in August 2022. The challenge was open to students in their first year of college through the final year of Ph.D. The Exceed Campus Challenge addressed topics such as artificial intelligence, cloud computing, condition monitoring, vision enhancement, hydrogen-powered locomotive, and braking performance.
About Wabtec
Wabtec Corporation (NYSE: WAB) is focused on creating transportation solutions that move and improve the world. The company is a leading global provider of equipment, systems, digital solutions and value-added services for the freight and transit rail industries, as well as the mining, marine and industrial markets. Wabtec has been a leader in the rail industry for over 150 years and has a vision to achieve a zero-emission rail system in the U.S. and worldwide. Visit Wabtec's website at www.wabteccorp.com
Media Contact:
Sanaj Natarajan
+919972800477
sanaj [dot] natarajan [at] wabtec [dot] com
Meet the Winners
*Click to enlarge