Wabtec Hosts Alternative Fuel Conference in Chicago
Image
---
On July 12th, Wabtec hosted an Alternative Fuel Conference in Chicago that involved more than 80 participants. In-person and online attendees included alternative fuel vendors Renewable Energy Group and Linde, Wabtec employees from across the country, and representatives from a large swath of our customers, notably Amtrak, Anacostia/PHL, BNSF, CN, CP, G&W, IAIS, KCS, NS, Rio Tinto, and UP.
Wabtec launched the conference to prompt a technical conversation with the railroad industry, alternative fuel suppliers, and propulsion technology providers to drive progress in decarbonization. The hope is that we can work together as a team to optimize the path forward toward a net-zero-emissions railroad industry.
Image

Group President of Freight Services, Pascal Schweitzer, kicked off the event, sharing his excitement over seeing such a dynamic group of leaders coming together with a shared purpose of developing and advancing innovative solutions to reduce GHG emissions. He spoke about the extraordinary moment we find ourselves in today, when we as an industry can begin to explore and leverage alternative fuels to help the industry achieve its science-based ESG targets.
The agenda included the following perspectives and approaches:
Biofuel Field Test Update – Chris Miller (Wabtec)
Biodiesel and Renewable Diesel Manufacturer – Dave Slade (Renewable Energy Group)
FLX Design Philosophy and Rail Applications – Dan McNair (Wabtec)
H2 Internal Combustion Engine (ICE) – Jim Gamble (Wabtec)
H2 Manufacturer – Al Burgunder (Linde)
Hydrogen Hub Program – Philip Moslener (Wabtec)
Class I RR Sustainability – François Bélanger (Canadian National)
Image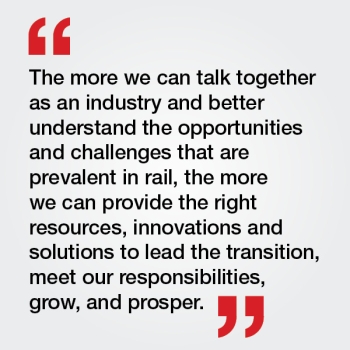 Wabtec is committed to providing products and services that facilitate a transition to alternative fuels by using biodiesel, renewable diesel, hydrogen (fuel cell or internal combustion), or batteries in both new locomotive builds and locomotive modernizations. Our approach is to use rigorous engineering and industry collaboration to develop cost-efficient solutions for the industry that will have the desired outcome and relevant ESG impact.
Group Vice President of Product Management, Bob Bremmer closed the event, thanking everyone for their time, insights and energy in working together to facilitate a transition to alternative fuels that will help the industry meet its aggressive sustainability goals, commenting: "The more we can talk together as an industry and better understand the opportunities and challenges that are prevalent in rail, the more we can provide the right resources, innovations and solutions to lead the transition, meet our responsibilities, grow, and prosper."