Wabtec Site in Avellino Italy Earns IRIS Gold for Quality Performance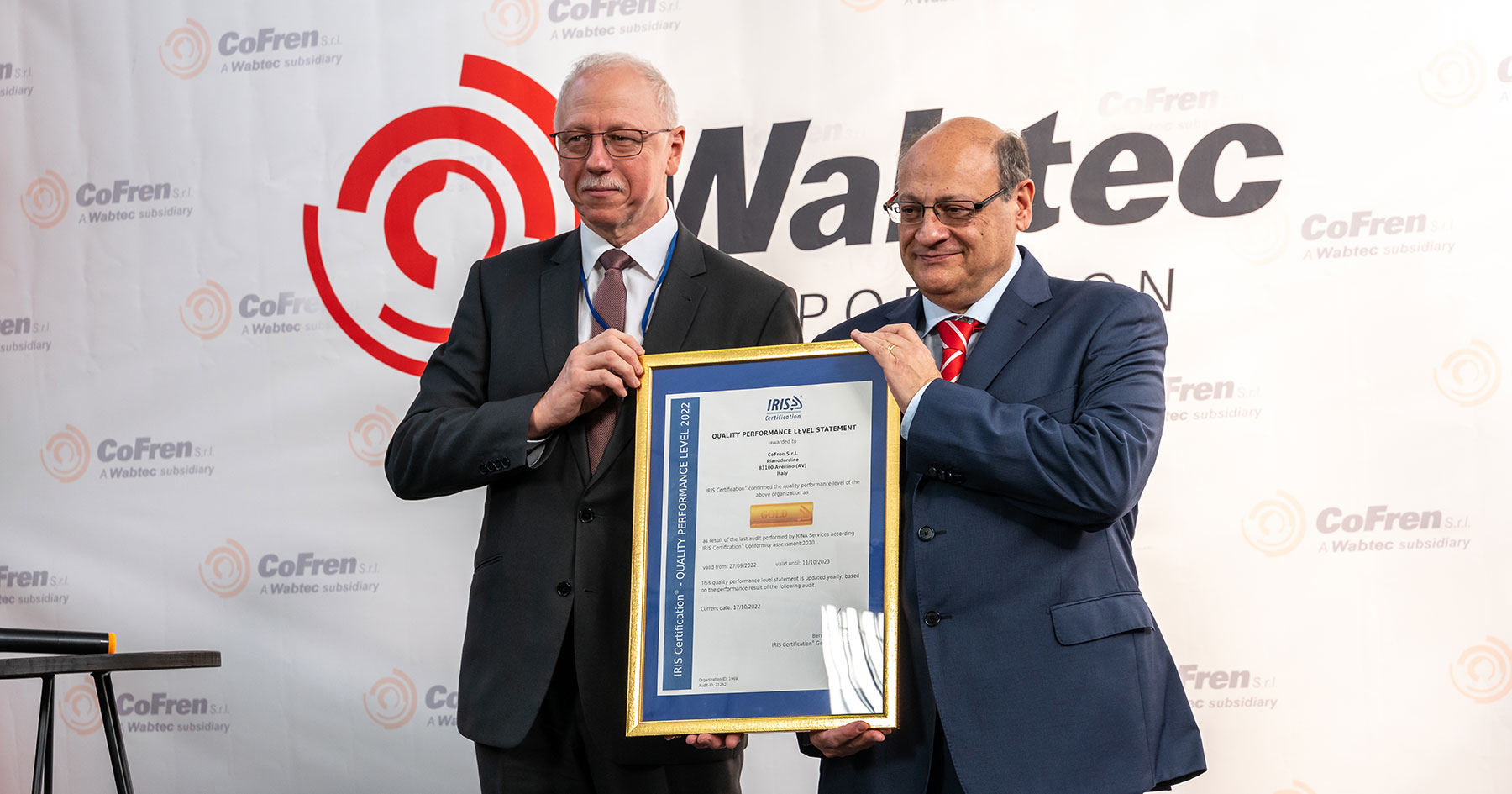 PITTSBURGH, December 22, 2022 -- Wabtec's site in Avellino, Italy today received International Railway Industry Standard (IRIS) Gold recognition for quality performance at its highest level of excellence, the Gold level. The IRIS Gold is the highest level of excellence, which only two other sites in the rail industry have achieved. 
"This Quality Performance Statement is a great source of pride for the Wabtec teams in Italy and our entire company," said Vittorio de Soccio, Director of Wabtec's Avellino site. "As a member of the IRIS Board since its inception, we have to date 33 IRIS-certified Wabtec Transit sites."
Vittorio de Soccio received the Quality Performance recognition from Bertrand Kaufman, IRIS director during a ceremony held in presence of Avellino mayor along with other local dignitaries and industry representatives.
The Avellino site implemented very strict quality and performance processes to produce industry-leading brake linings. It has been IRIS certified since 2012. This year, the Avellino team's excellent manufacturing processes and standards combined with direct positive customer feedback convinced the IRQB special committee to grant the highest level of quality performance.
Established as a UNIFE working group in 2005, IRIS Certification aims to secure higher quality in the rail sector through developing and implementing a global system for the evaluation of companies supplying to the railway industry. Uniform language, assessment guidelines and mutual acceptance of audits creates a high level of transparency and trust towards IRIS Certification throughout the supply chain enhancing competition and increasing the quality of rail products.
About Wabtec
Wabtec Corporation (NYSE: WAB) is focused on creating transportation solutions that move and improve the world. The company is a leading global provider of equipment, systems, digital solutions and value-added services for the freight and transit rail industries, as well as the mining, marine and industrial markets. Wabtec has been a leader in the rail industry for over 150 years and has a vision to achieve a zero-emission rail system in the U.S. and worldwide. Visit Wabtec's website at www.wabteccorp.com.
Media Contact:
Raphael Hinninger
+33 (0)6 71 83 60 36
raphael [dot] hinninger [at] wabtec [dot] com 
---
Photos from the Presentation Ceremony in Avellino, Italy
*Note: click on an image to enlarge